AQB Undergraduate Early Admission and Scholarship Announcement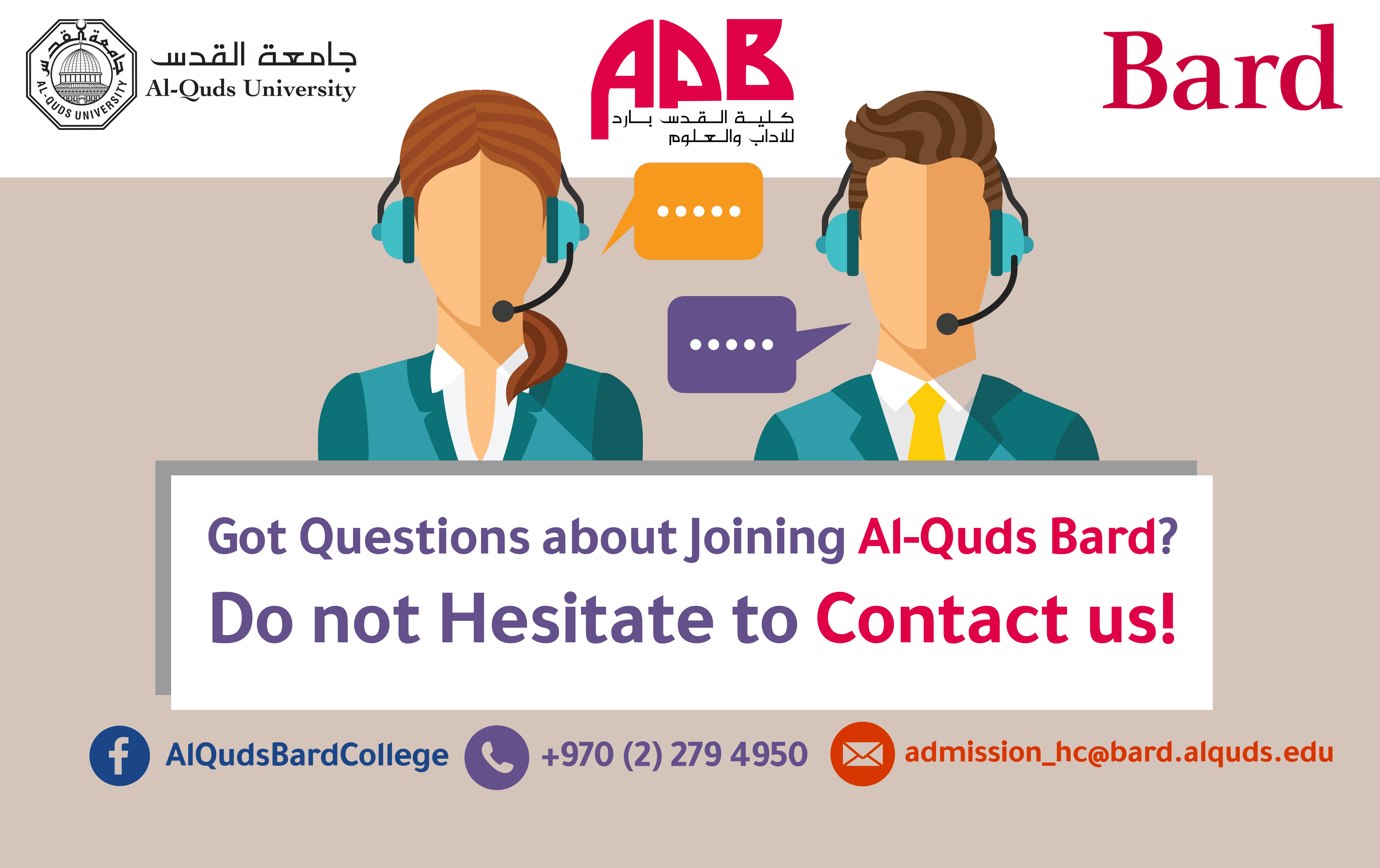 The Available Scholarships:
The Need-Based scholarships (Qatar Scholarship):
According to the recent partnership, Al-Quds University in agreement with Education Above All Foundation (EAA), through Qatar Scholarship, and the support of Qatar Fund For Development (QFFD) has develop a joint scholarship programme at Al-Quds Bard College for the Arts and Sciences (AQB) in Abu Dis, Palestine. AQB will be awarding scholarships to disadvantaged youth, who are coming from backgrounds, including those who hold status as refugees, disabled, orphaned, unemployed parents, limited financial means, and under pressure of unavoidable expenses, e.g., medical debt. The term marginalized or disadvantaged youth could encompass many groups within the Palestinian community. Therefore, the College follows an inclusive criterion that embraces youth who face an economic, social, political, and/or cultural marginalization.
The Qatari EAA scholarship is granted to those who meet the criteria, on a scale from 85% to 100%. The 100% scholarship will be reserved only for students in good-excellent academic standing cases who demonstrate extreme cases of need.
Through this scholarship, AQB will be granting partial scholarships to Tawjihi students and its equivalent degree holders, who have scored 85% and above. AQB Financial Department will be following a pre-set scale and criteria in determining these percentages. The highest scholarships will reach 75% and would be given to students who will score 97% and above on their Tawjihi or its equivalent. Likewise, the priority will be given to those who submit their complete applications early.  
2- Eligibility and Requirements of the Scholarships:
Applicants should:
Demonstrate the financial need for the scholarship through the relevant section in the application form. This is for applicants seeking the Need-Based Scholarship.
Have a GPA of at least 85% or higher at Tawjihi or its equivalent. AQB has three tracks of admission, visit this pageto see requirements of each.
Demonstrate a passion to study at AQB and a commitment to complete his/her BA degree.
Instructions on how to apply for both or one of the scholarships: 
Obtain the free application, Al-Quds University Undergraduate Application. Applicants can request a free application by submitting a request here. Or, Applicants can purchase the application at theselocations.
Upon the completion and submission of the application, applicants have to submit two separate applications in order to be considered for the need-based (Qatar Scholarship) or merits scholarships. The financial aid application formand the scholarship motivation/eligibility essay. 
Applicants await their Tawjihi results, if the prospective applicant meets the criteria of one or both scholarships as explained above, he/she will be presented with an admission text message (SMS) and/or email.
Once the applicant receives an admission SMS and/or email, he/she is welcome to come to AQB admission office to receive his/her admission package and scholarship offer. After that, admitted applicants need to act swiftly and reserve their seats by paying the seat reservation fee.
  Admitted students must:
Commit to 35 volunteering hours per year in civic engagement work for the College academic and administrative activities;
Maintain an accumulative GPA above 80% during their journey at AQB; 
Participate in special activities assigned for scholarships' recipients.
Kindly address further inquiries-- which were not addressed as part of the above instructions-- by writing to: This email address is being protected from spambots. You need JavaScript enabled to view it.
Or calling:
-02-279-4950
-059-310-1947
-052-389-0290
Al-Quds Bard College for Arts and Sciences