Al-Quds Bard College,
Al-Quds University,
11-09-2021
AQB New Global Civic Engagement Fellow: Sundus Al-Fararjah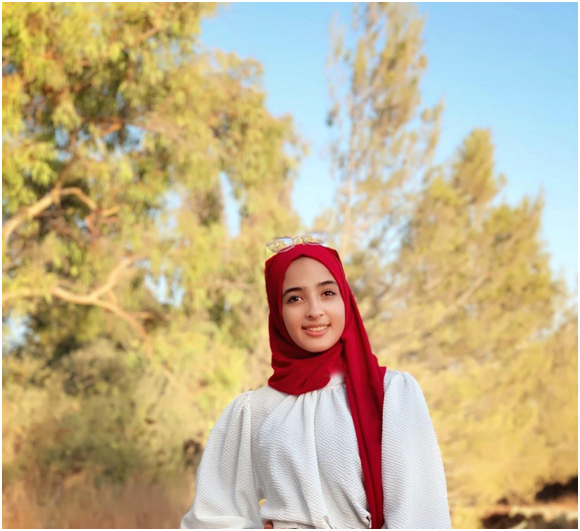 Al-Quds Bard College is happy to announce that Sundus Al Fararja, an ambitious human rights and international law student at AQB, has been chosen as the new Global Civic Engagement Fellow in the Open Society University Network for the year 2021/2022.
Global Civic Engagement Fellows promote and coordinate thematic civic engagement projects across the Open Society University Network by managing to assist students in developing ideas addressing social needs to bring about meaningful and positive changes to their communities. 
Sundus was involved in a number of civic engagement projects on campus, co-hosted unique workshops, and served as a resource for students interested in developing ideas for civic engagement projects. Sundus is also a leader of the "Womenity Club" at AQB, where she aspires to reach Palestinian women, especially marginalized ones, to strengthen their participation in the Palestinian community, and raise awareness about their social, economic, and political rights. With her initiative, she hopes to empower women, increase their intellectual capacities, and mobilize a group of youth who can effectively engage in dialogue on women's rights under the Palestinian legislation.

Sundus will be working actively with AQB's Civic Engagement Coordinator Shadin Nassar to expand AQB's commitment to civic engagement and recruit more students to contribute productively and meaningfully to their communities. Sundus will also be responsible for compiling and producing material relating to "best practices" in thematic areas for civic engagement mainly for Get Engaged Conference participants.
If you need to contact Sundus, you can reach her at: This email address is being protected from spambots. You need JavaScript enabled to view it.  
زميل المشاركة المدنية في كلية القدس بارد: سندس الفرارجة
تبارك كلية القدس بارد للطالبة سندس الفرارجة، تخصص حقوق الإنسان والقانون الدولي، ، على اختيارها لتمثيل دور "زميل المشاركة المدنية Global Civic Engagement Fellow في كلية القدس بارد للآداب والعلوم.
ستعمل سندس على تعزيز وتنسيق مشاريع المبادرات الطلابية عبر شبكة جامعة المجتمع المفتوح  Open Society University Network. حيث يطور الزميل بالتعاون مع زملاء المشاركة المدنية في الجامعات الشريكة العديد من المشاريع ذات الأهمية المجتمعية.
حيث أن دور سندس يتمحور حول مشروعها "نادي المرأة" الذي يختص بالتواصل مع نساء فلسطينيات، وخاصة اللواتي يعشن في مجتمعات متضررة وأقل حظاً من أجل تعزيز وعيهن بحقوقهن الاجتماعية والاقتصادية والسياسية، ومساعدتهن على تحقيق التمكين الفكري في ظل التشريعات الفلسطينية وغياب قانون حماية شامل. وفي غضون عامين، تهدف سندس إلى تنمية مهارات الحوار الفعال حول حقوق المرأة بموجب سن التشريعات الفلسطينية وتطبيقها في المحاكم وفرضها من خلال أجهزة تطبيق القانون.
ستعمل سندس بشكل فعال مع منسق المشاركة المدنية في كلية القدس بارد، الأستاذة شادن نصار، على توسيع دائرة عمل المشاركة المدنية في الكلية و استقطاب طاقات ومواهب جديدة من بين جمهور الطلبة. بالإضافة ستساهم في العمل على تنظيم المؤتمر الدولي Get Engaged الذي تشارك فيه كلية القدس بارد سنوياً.